Cold Links: heartwarming sports stuff
Apparently Marcus Smart is really good at "taking charges," which means positioning himself so that an offensive player will run into him and foul him. This requires getting into the right position and then specifically not moving for a second (the latter is necessary to trigger the ref's classification as an offensive foul). It's very funny to watch him do this (he's #36, the guy who takes a crotch to the face):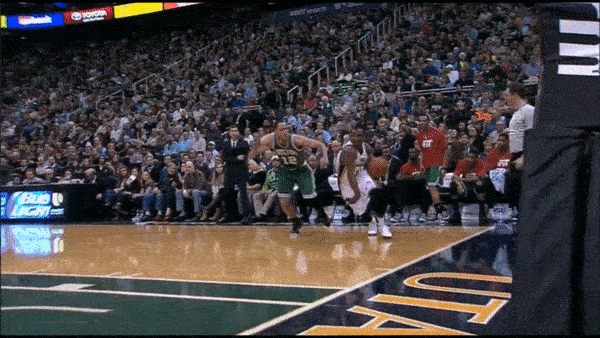 Marcus Smart has become my new central example of someone who enthusiastically takes one for the team.
A friend summarizes something he saw on ESPN (see also the Wikipedia entry, and video):
this is an amazing sports story i never knew about. Texas HS football. It was on ESPN b/c it's the 20th anniversary.

"... giving the Lions a seemingly insurmountable 41–17 lead with only 3:03 remaining.

However, on a two-play 70-yard drive, the Panthers scored a touchdown to bring the score to 41–23 (after a failed two-point conversion) with 2:36 on the clock. The Panthers then successfully executed three onside kicks in a row, recovering the ball each time and then driving down the field for a touchdown on each occasion.

... giving the Panthers a 44–41 comeback lead with only 24 seconds remaining.

In a final twist, however, after the Panthers did a regular kickoff, the Lions' returner Roderick Dunn caught the ball at his own three-yard line and took it 97 yards for a touchdown at 0:11 and a 48–44 Lions victory.

He was the very same player who had muffed the reception of the final two onside kicks.'

... interviews with the players from today [were on ESPN, not the Wikipedia page]:

-- the guys from the team that lost were still crying about it

-- the guy that ran back the kick said it was one of the greatest moments in his life and he still thinks about when he's down. the lesson, he says, is 'never give up.'
I wasn't able to easily verify a lot of this, but here is a very short, sweet story about Nav Bhatia, perhaps the first person inducted into the NBA Hall of Fame and given a championship ring for ... being a really dedicated fan? Apparently he hasn't missed a Toronto Raptors home game in 25 years.
Watch this kid's reaction to getting a spare racket from tennis legend Novak Djokovich. Sports!
Super Nice Soccer Guy Rewarded For His Compassion With Easiest Goal Of His Life.
Very funny article on now-retired former star NFL quarterback Andrew Luck: apparently he sincerely congratulated people who tackle him hard, and this was completely unique for a quarterback and was seen as extremely unnerving by the defenders. Doesn't mean he enjoyed the tackles though - he retired at 29.
The article completely delivers on the headline: 36-Year-Old Accountant Called In As Emergency NHL Goalie — And He Crushed It.
That story about two athletes (friends) who shared the gold medal is too recent and too popular for Cold Links, so maybe I'll link to it in a year or two. I did manage to find someone complaining about it.
Readers sent in cool new links on "intensity" in sports, which I'll put out another time (only heartwarming stuff allowed in this one).